Entre lo que se destaca Green Lantern 8 con "The Secret of the Indigo Tribe" parte 2. ¿Qué secretos esconden? ¿Qué buscan?
Batman y Robin 8 con el final de la saga de Nobody
También New Avengers 24 con el inicio del conflicto Cyclops vs Captain America
También tendremos este sabado a la venta la Variante Exclusiva de C2E2 de Avengers vs X-men 1. Aparta la tuya.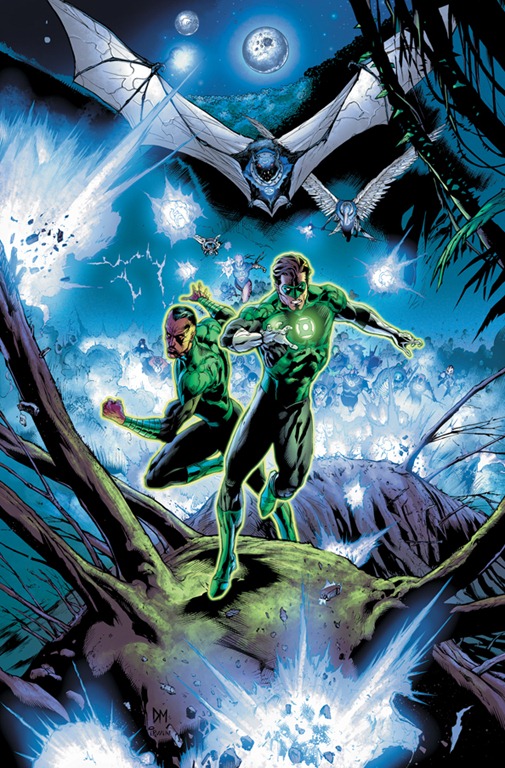 MARVEL
Amazing Spider-Man Hooky #1
Avengers Assemble #2
Avengers Assemble #2 hans avengers art variant cover
Avengers Coming of the Avengers #1
Avenging Spider-Man #6
Avenging Spider-Man #6 checchetto variant cover
Avenging Spider-Man #6 granov variant cover
Avengers vs X-men 1 C2E2 Variant Cover
Carnage USA #5
Deadpool #53
Fantastic Four #605
Fantastic Four #605 kaluta avengers art variant cover
Formic Wars Silent Strike #5
Halo Fall of Reach Invasion #3
Hulk #50 DCD summit 2012 cover
Journey Into Mystery #636
Mighty Thor #12.1
New Avengers #24
New Avengers #24 quinones avengers art variant cover
Scarlet Spider #4 volume 2
Scarlet Spider #4 volume 2 avengers art variant cover
Secret Avengers #25
Secret Service #1
Secret Service #1 variant cover
Ultimate Comics X-Men #10
Uncanny X-Men #10
Winter Soldier #4
Winter Soldier #4 christopher avengers art variant cover
Wolverine #304
Wolverine #304 gurihiru avengers art variant cover
DC
Batgirl #8 volume 4
Batman and Robin #8 volume 2
Batman Arkham Unhinged #1
Batwoman #8
Batwoman #8 variant cover
Deathstroke #8 volume 2
Demon Knights #8
Frankenstein Agent of Shade #8
Green Lantern #8
Green Lantern #8 variant cover
Green Lantern #8 black & white variant cover
Grifter #8
Legion Lost #8
Mister Terrific #8
Resurrection Man #8
Shade #7
Shade #7 variant cover
Suicide Squad #8 volume 3
Superboy #8 volume 5
DC/VERTIGO
Northlanders #50
Saucer Country #2
Unwritten #36
INDEPENDENT
68 Scars #1 cover a
68 Scars #1 cover c
68 Scars #1 cover d
Alabaster Wolves #1 oeming cover
Alabaster Wolves #1 ruth cover
Americas Got Powers #1
Artifacts #16
Bionic Man #8
Bionic Man #8 virgin cover
Bionic Woman #1
Bionic Woman #1 black & white cover
Bionic Woman #1 virgin cover
Bodysnatchers #4
Buffy the Vampire Slayer Season 9 Freefall #8 jeanty cover
Buffy the Vampire Slayer Season 9 Freefall #8 noto cover
Cavewoman Mutation #1
Cavewoman Mutation #1 nude cover
Cobra #12 cover a
Cobra #12 cover b
Cobra #12 variant cover
Comics Saturday Night Live #1
Conan the Barbarian #3 carnvale cover
Conan the Barbarian #3 fernandez cover
Courtney Crumrin Ongoing #1
Crossed Badlands #3
Crossed Badlands #3 torture cover
Crossed Badlands #3 wrap cover
Crossed Badlands #3 red crossed cover
Danger Girl Revolver #3 cover a
Danger Girl Revolver #3 cover b
Dark Matter #4
Dead Pooh #1
Dungeons and Dragons Forgotten Relms100 Page Spectacular #1
Epoch #5
Extinction Seed #2 cover a
Extinction Seed #2 cover b
Glory #24 second print
Glory #25
Gold Digger #137
Gore #5
Grimm Fairy Tales Alice in Wonderland #4 cover a
Grimm Fairy Tales Alice in Wonderland #4 cover b
Haunt #23
Hellraiser Annual #1 cover a
Hellraiser Annual #1 cover b
Hellraiser Annual #1 virgin cover
Infestation 2 #2
Infestation 2 #2 variant cover
Lobster Johnson the Burning Hand #4
Lobster Johnson the Burning Hand #4 mignola cover
Lord of the Jungle #3 francavilla cover
Lord of the Jungle #3 renaud cover
Lord of the Jungle #3 parillo cover
Lord of the Jungle #3 parillo virgin cover
Lord of the Jungle #3 francavilla virgin cover
Lord of the Jungle #3 jungle green cover
One #7
Orchid #6
Peter Panzerfaust #2 second print
Peter Panzerfaust #3
Rich Johnstons Iron Muslim #1
Rich Johnstons Iron Muslim #1 variant cover
Route Des Maisons Rouges #7
Saga #1 second print
Saga #2
Secret #1
Smoke and Mirrors #2
Smoke and Mirrors #2 incentive cover
Star Wars Agent of the Empire Iron Eclipse #5
Star Wars Knights of the Old Republic War #4
Steampunk Sketchbook #1
Survivalist One Shot
Theater #5 cover a
Theater #5 cover b
Thief of Thieves #2 second print
Thief of Thieves #3
Vampirella vs Dracula #3
Victorian Secret Agents Steampunk Angels
Wasteland #36
TRADES AND HARDCOVERS
100 Bullets HC Book 02
Avalon Chronicles HC volume 01
Avengers Hawkeye Solo TPB
Avengers Vs X-men Its Coming TPB
Batman Incorporated Deluxe HC volume 01
Batman No Mans Land vol 2 TPB new edition
Bizzare Thrills Paragon Publications Story TPB
Black Panther MDMA Kingpin Of Wakanda TPB
Brodys Ghost Book 03
Courtney Crumrin Special Edition HC volume 01
Daredevil Season One PREM HC with digital code
Dollhouse Epitaphs Vol 1 TPBSevered HC
Essential Avengers TPB volume 08
Genetiks TM HC volume 01
Goldfish GN HC
Hitman Vol 6 For Tomorrow TPB
I Vampire TPB
Infinite Horizon TPB
Kingdom Call of the Wild TPB
Kitchen Sink Press First 25 Years
Legion of Super Heroes When Evil Calls TPB
MMW Captain Ameria HC volume 06
New Mutants TPB Unfinished Business volume 04
Oz Treasury Edition
Pete and Miriam GN
Punisher Max Frank TPB
Severed HC
Showcase Presents the Losers TPB volume 01
Spider-Man Complete Ben Reilly Epic TPB Book 04
Stan Lee Stripperella TPB
Strange Talent Of Luther StrodeTPB
Teen Titans Prime Of Life TPB
Teenage Mutant Ninja Turtles Ultimate Collection Vol 2 HC
Tintin Young Reader Edition Crab & Golden Claw
Tintin Young Reader Edition Shooting Star
X-Men Dark Phoenix Saga TPB new printing
X-Men Legacy Lost Legions TPB
ALL AGES
Adventure Time #3 cover a
Adventure Time #3 cover b
Adventure Time #3 buscema cover
Adventure Time #3 sketch cover
Betty and Veronica Double Digest #200
Green Lantern the Animated Series #1
Kevin Keller #2
Kevin Keller #2 parent cover
Marvel Universe Avengers Earths Mightiest Heroes #1
Mega Man #12
Richie Rich Gems #46
SpongeBob Comics #8
MAGAZINES
Comic Shop News