Hola bienvenidos a Comics México.
Esta es la lista de los comics nuevos en inglés para esta semana.
Entre lo sobresaliente se encuentra
De Marvel
Infinity 1 con diversas portadas y variantes. Thanos ha llegado y quiere conquistar la tierra. Mientras los Avengers se encuentran a lo largo de la galaxia.
De DC tenemos Justice League of America 7 continuando Trinity War , quien manipuló a Superman? Catwoman seduciendo a the House of Secrets?
También esta semana Killjoys # 3 con la buscada serie de Gerard Way (My Chemical Romance) continua con más sorpresas.
Para informes y mayores detalles de nuestros productos escribenos a
comicsmexico@gmail.com
o en
http://www.facebook.com/comicsmexico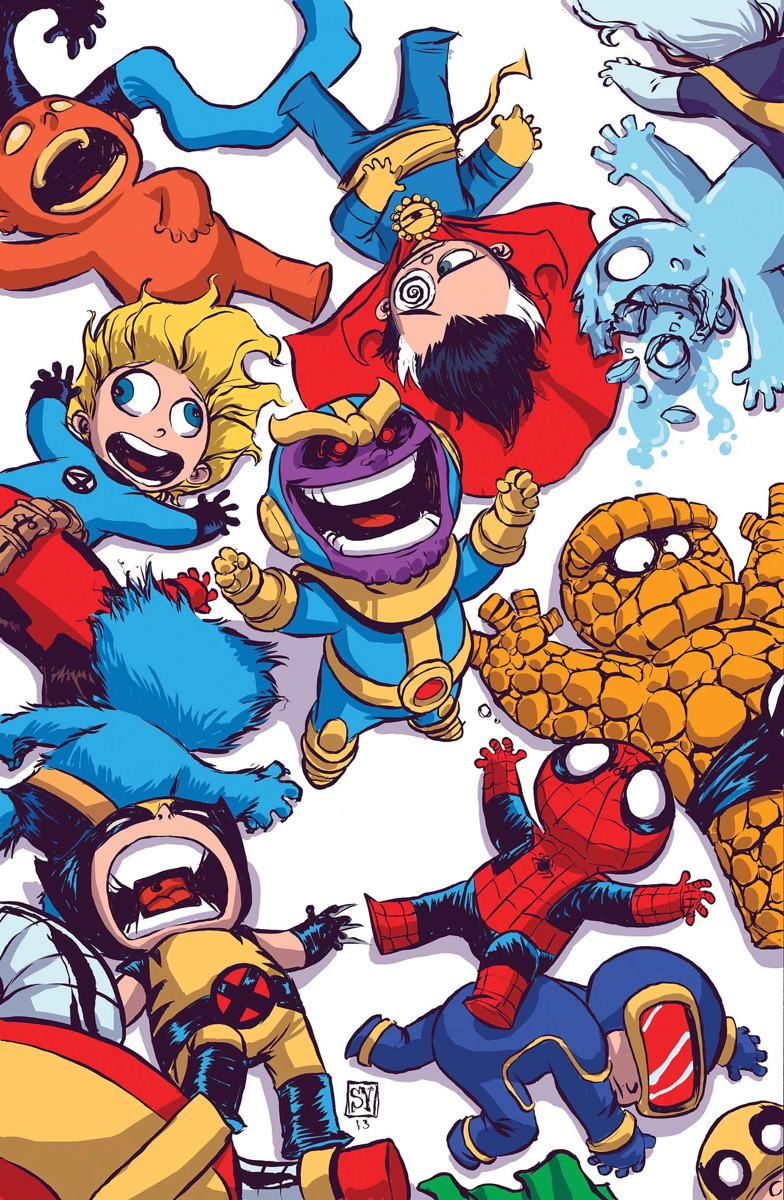 MARVEL
Astonishing X-Men #65
Avengers Arena #13
Deadpool #14 vol 5
Dexter #1 second print
Fantastic Four #11 vol 4
Fearless Defenders #8
Infinity #1
Infinity #1 blank cover
Infinity #1 design cover
Infinity #1 djurdjevic cover
Infinity #1 generals cover
Infinity #1 hero cover
Infinity #1 hero sketch cover
Infinity #1 party cover
Scarlet Spider #20 vol 2
Secret Avengers #7
Superior Spider-Man Team Up #2
Thor God of Thunder #11
Ultimate Comics X-Men #30
Uncanny X-Force #10 vol 2
Uncanny X-Men #10 vol 3
Uncanny X-Men #10 vol 3 50th anniversary cover
Wolverine #8 vol 4
Wolverine #8 vol 4 8-bit cover
Wolverine and the X-Men #34
DC
Astro City #3
Batgirl #23 vol 4
Batman #23
Batman #23 variant cover
Batman #23 b&w variant cover
Batman Arkham Unhinged #17
Batman Arkham Unhinged #17 variant cover
Batman Lil Gotham #5
Constantine #6
Demon Knights #23
Django Unchained #6
Green Lantern Corps #23
Green Lantern Corps #23 variant cover
Justice League of America #7 vol 4
Justice League of America #7 vol 4 we can be heroes blank
Justice League of America #7 vol 4 variant cover
Justice League of America #7 vol 4 b&w variant cover
Katana #7
Nightwing #23 vol 2
Smallville Season 11 #16
Suicide Squad #23 vol 3
Superboy #23 vol 5
Threshold #8
Wake #2 second print
Worlds Finest #15
INDEPENDENT
100 Penny Press Star Trek #1
A1 #3
Archer & Armstrong #12 vol 2
Archer & Armstrong #12 vol 2 doe variant
Battlestar Galactica #3 vol 3
Battlestar Galactica #3 vol 3 eliopoulos cover
Battlestar Galactica #3 vol 3 ross sketch cover
Breath of Bones a Tale of the Golem #3
Buffy the Vampire Slayer Season 9 Freefall #24 jeanty cover
Buffy the Vampire Slayer Season 9 Freefall #24 noto cover
Charismagic Death Princess #3 cover a randolph
Charismagic Death Princess #3 cover b lopez
Charismagic Death Princess #3 cover c mahan
Chronos Commandos Dawn Patrol #2
Damsels Mermaids #4
Deathmatch #8 cover a
Deathmatch #8 cover b
Deathmatch #8 morgue cover
Dejah Thoris and Green Men of Mars #5
Dejah Thoris and Green Men of Mars #5 garza cover
Dejah Thoris and Green Men of Mars #5 geovanni cover
Dejah Thoris and Green Men of Mars #5 reis cover
Dejah Thoris and Green Men of Mars #5 subscription cover
Doctor Who vol 3 #12 cover a
Doctor Who vol 3 #12 cover b
Doomsday .1 #4
East of West #4 second print
East of West #5
Fubar By The Sword #1
Ghosted #1 second print
Ghosted #2
GI Joe Special Missions #6 volume 2 cover a
GI Joe Special Missions #6 volume 2 cover b
GI Joe Special Missions #6 volume 2 incentive cover
Gold Digger #202
Great Pacific #9
Grimm #4
Grimm #4 photo cover
Grimm Fairy Tales Demons Unseen #3 cover a
Grimm Fairy Tales Demons Unseen #3 cover b
Grimm Fairy Tales Demons Unseen #3 cover c
Half Past Danger #4
Half Past Danger #4 subscription variant
Halo Initiation #1
Halo Initiation #1 variant cover
Harbinger #15 vol 2
Harbinger #15 vol 2 evans variant
Harbinger #15 vol 2 hughes variant
Harbinger #15 vol 2 pullbox variant
Herobear and the Kid Inheritance #1
Herobear and the Kid Inheritance #1 variant cover
Knights of the Dinner Table #200
Last of US American Dreams #1 third print
Last of US American Dreams #2 second print
Last of US American Dreams #3 second print
Last Zombie the End #3
Lost Vegas #4 cover a lee
Lost Vegas #4 cover b salas
Lost Vegas #4 phnatom variant
Lost Vegas #4 variant cover
Mind the Gap #12 cover a esquejo
Mind the Gap #12 cover b gaydos
Outliers #1
Peter Panzerfaust #13
Red Sonja #2 vol 5 cover a
Red Sonja #2 vol 5 cover b
Red Sonja #2 vol 5 red cover
Red Sonja #2 vol 5 subscription cover
Red Sonja #2 vol 5 black & white cover
Resident Alien Suicide Blonde #0
Saga #13
Savage Dragon #190
Savage Dragon #190 limited edition digest
Shadow Green Hornet Dark Nights #2 cassaday cover
Shadow Green Hornet Dark Nights #2 ross cover
Shadow Green Hornet Dark Nights #2 subscription cover
Six Gun Gorilla #3
Spawn #234
Spawn #234 mcfarlane black and white incentive cover
Star Trek #24 ongoing
Star Trek #24 ongoing incentive cover a
Star Trek #24 ongoing incentive cover b
Star Wars #8 vol 3
Steampunk Corsairs #1
Supurbia #10 vol 2
Thunder Agents #1 vol 5 cover a
Thunder Agents #1 vol 5 cover b
Thunder Agents #1 vol 5 cover c
Thunder Agents #1 vol 5 cover d
Thunder Agents #1 vol 5 subscription cover
Thunder Agents #1 vol 5 variant cover
True Lives of the Fabulous Killjoys #3
True Lives of the Fabulous Killjoys #3 variant cover
Vampirella Southern Gothic #1
Vampirella Southern Gothic #1 subscription cover
Walking Dead #113
Watson And Holmes #2
Westward #5
Wild Blue Yonder #1 second print
Wonderland #13 cover a
Wonderland #13 cover b
Wonderland #13 cover c
X #4 vol 2
X-Files Season 10 #1 second print
X-Files Season 10 #2 second print
X-Files Season 10 #3 cover a
X-Files Season 10 #3 cover b
X-Files Season 10 #3 incentive cover
X-Files Season 10 #3 subscription variant
TRADES AND HARDCOVERS
Alpha Big Time TPB
Avengers Assemble Science Bros TPB
Bad Break HC
Best Of Archie Comics Vol 3 TPB
BPRD Hell On Earth Vol 6 Return Of The Masters TPB
Btooom Vol 3 TPB
Children Of Palomar HC
Dr Strange And Dr Doom Triumph And Torment TPB
EC Al Feldstein Child Of Tomorrow HC
EC Johnny Craig Fall Guy For Murder HC
Essential Fantastic Four Vol 9 TPB
Ex Sanguine TPB
Fearless Defenders Vol 1 Doom Maidens TPB
First X-men TPB
Flash Vol 1 Move Forward TPB
Flash Vol 2 Rogues Revolution HC
Frank Cho Women Drawings & Illustrations Vol 2 TPB
Gahan Wilson Sunday Comics HC
Gi Joe Vol 1 Homefront TPB
Invincible Compendium Vol 2 TPB
Judge Vol 1 TPB
Knights Of Sidonia Vol 4 TPB
Kiss Solo TPB
Magi Vol 1 TPB
Mark Schultz Xenozoic Tales Artist ED HC
Mike Nortons Battlepug Vol 2 HC
My Little Pony Digest Vol 1 TPB
Nightwing Old Friends New Enemies TPB
One Trick Rip Off Deep Cuts TPB
Prince Valiant Vol 7 1949-1950 HC
Right State TPB
Rubicon HC
Smallville Season 11 Vol 2 Detective TPB
Thunder Agents Classics Vol 1 TPB
Tiger And Bunny Comic Anthology Vol 1 TPB
Transformers Dark Prelude TPB
Walking Dead Days Of Survival Calendar 2014
What Is Above HC
Wolverine Vol 1 Hunting Season TPB
ALL AGES
Adventure Time Candy Capers #2 cover a
Adventure Time Candy Capers #2 cover b
Adventure Time Candy Capers #2 maynard cover
Adventure Time Candy Capers #2 salume cover
Archie and Friends Double Digest #30
Garfield Pet Force Special #1
Jugheads Double Digest #195
Marvel Universe Ultimate Spider-Man Adventures #17
My Little Pony Cover Gallery #1
SpongeBob Comics #23
MAGAZINES
Comic Shop News